Access
アクセス
Former HOTEL KAMINARIMON

〒111-0032 1-18-2, Asakusa, Taito-ku, Tokyo
TEL:03-3844-1873 FAX:03-3844-0400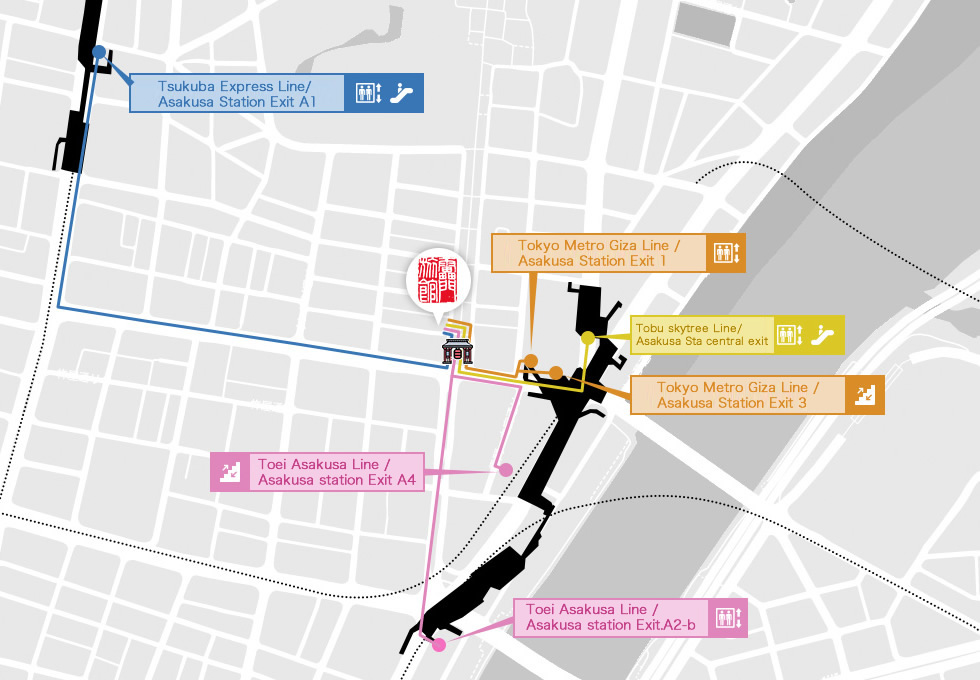 Event
イベント
Jan.

"Hatsumode"

New Year's visit to shrines and temples
New Year's wish for health, happiness and so on.
Feb.

"Setsubun" on February 3rd

Bean-Throwing festival at Sensoji.

"Hari-Kuyou"

Memorial service and thanks for old/worn-out needles.
Mar.

"Kinryu-no-Mai"

(Dance of golden dragon) on March 18 at Sensoji.
Apr.

"Hana Matsuri"

Flower festival celebrating for the Buddha's birthday

"Asakusa Yabusame"

Traditional art of shooting arrows on horseback, at Sumida park.

"Naki-Sumo"

Crying Sumo between two babies wishing for their health.
May

"Sanja Matsuri"

festival: One of the three major festivals in Edo (old day's Tokyo). More than 100 portable shrines ("Mikoshi") parade the streets.
When you shout "Say-Yah!, Say-Yah" together, you've already become "Edokko" "Ofujisama-no Ueki-ichi" (Garden plant market)
Jul.

"Ho-zuki Ichi"

Hozuki ichi is a market in which Chinese Lantern Plants are sold at Sensoji. This makes People in Asakusa feel the coming of summer.

"Great Fireworks in Sumida-gawa river"

One of the most famous fireworks events.
Aug.

"Asakusa Samba Carnival"

"Asakusa Samba Carnival" on 4th Saturday, Let's dance together!!
Oct.

"Kinryu-no-Mai"

"Kinryu-no-Mai" (Golden dragon dance) and "Kiku Kuyoukai"(memorial service for Chrysanthemum)
Nov.

"Tori-no Ichi"

"Tori-no Ichi" at Ohtori shrine (Day of the cock)
Open-air market selling an ornament believed to bring luck.
Dec.

"Hagoita-Ichi"

"Hagoita-Ichi" at Sensoji (Battledore festival)
"Hagoita"(Battledores) wishing for a healthy growing of baby girl.